---
Local Garage Door Installation and Repair Company
Introducing Lynoka Garage Door Services—a reputable, locally-owned business that focuses on providing top-notch residential garage door installation and repair services. With an extensive background spanning over two decades in the garage door industry, we have encountered and successfully resolved a wide range of issues. Our primary goal is to deliver reliable service at budget-friendly rates. Our team is well-versed in the most up-to-date safety protocols, installation techniques, and repair methods, guaranteeing a successful service call on every occasion. We take immense pride in serving the residents of Norfolk and Middlesex Counties, MA, and delight in meeting their garage door needs.
Local, Family Owned Garage Door Company Near You
Lynoka Garage Door Company, a local, family-owned garage door repair and installation company, was founded on the concept of "WOW CUSTOMER SERVICE." We believe that it begins at home, with family. If you're looking for a local garage door service company in Braintree Ma. Proudly servicing Weymouth MA, Randolph Ma and all of Eastern Massachusetts. We humbly ask you to consider us for all of your garage door repair and installation needs.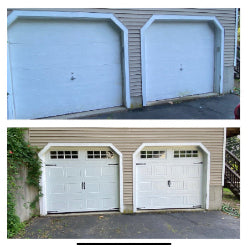 Why Choose Lynoka Garage Door Services
We did the research and found what was important to homeowners when hiring a local garage door service company. We feel that these qualities encompass why you should hire us for all your garage door repair and installation needs. To meet our goal of becoming your garage door company for life, Lynoka Garage Door Services is determined to surpass your expectations in all of the following areas. All of our service professionals are IDEA Certified and knowledgeable in the garage door industry. We're located in Braintree Ma,
Come Visit Us!
530 West st,
Braintree Ma, 02184
Mon - Fri, 7am - 5pm
Saturday - 7am - 5pm
Sunday- Closed
We are always on the road. Please schedule an appointment before you come in.
---
Massachusetts Garage Door Service Area
Areas We Service 
Middlesex County
Natick, Ma
Needham, Ma
Newton, Ma
Wayland, MA
Weston, Ma
And More!!!
Suffolk County
Boston, MA
Chelsea, MA
Revere, MA
Winthrop, Ma
And More!!!
Norfolk County
Avon, Ma
Bellingham, MA
Brookline, Ma
Canton, MA
Cohasset, MA
Dedham, Ma
Dover, Ma
Foxborough, MA
Franklin, Ma
Holbrook, MA
Medfield, Ma
Medway, Ma
Millis, Ma
Milton, MA
Needham, Ma
Norfolk. Ma
Norwood, Ma
Plainville, MA
Quincy, MA
Sharon, MA
Stoughton, MA
Walopole, Ma
Wellesley, MA
Westwood, MA
Wrentham, MA
Plymouth County
Hanover, MA
Marshfield, MA
Norwell, MA
Scituate, MA
And More!!